MOSAICS AND THE ROMAN VILLA DEL CASALE PIAZZA ARMERINA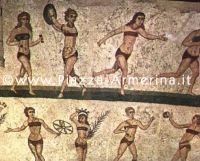 Roman villa of the fourth century AD farmhouse.
One of the most important findings to date is carried out the famous Villa del Casale.
With an area of ​​over 3,500 square meters, the Villa was the hunting residence of Maximilian Herculean, a colleague of Diocletian in the Roman empire management.
Today it is an extraordinary testimony of life in Roman era thanks to its mosaic floors, famous throughout the world.
The realization of these mosaics is now attributed to masters Africans, as inventors of this art that spread in the countries with whom they came into contact.
The importance of the Villa World character is due to the impeccable condition mosaics, considered also the most extensive and fascinating ever made in Roman times.
This importance is also due to scenes depicted in this work, which appear to be evidence of great technical view the veracity of subjects and colors used.
In these works it can be seen scenes from Homer's works, mythological scenes and images of everyday life, always very vividly realized.
The Villa has four main groupings identifiable in:
main entrance and spa area;
peristyle with living room and guest;
private rooms and basilica;
triclinio and elliptical courtyard.

They are arranged in a terrace to adapt to characteristics of the land on which they stand.
Outside they were discovered two aqueducts used for the supply of fountains, services and neighborhood spa.
Many scholars argue that a long time building this usually it could not be completely isolated, but was to include other marginal buildings devoted to solving all needs of an imperial villa.
For this reason they are now taking various excavations.
The Villa is equipped with ample parking for bikes / cars and buses, also it is You can take advantage of the urban transport network and the city of Piazza Armerina (5 km) arrives at Villa only in the period April / September.
In the area adjacent to the Villa are: restaurants, bars, phones public, toilet, souvenir shops, tourist information points etc. TO Because of the shape of the villa and the presence of walkways
and numerous stairs is not permitted access for the handicapped who use wheelchairs and the like.

MOSAICS AND THE ROMAN VILLA DEL CASALE PIAZZA ARMERINA
article by:
BED AND BREAKFAST BAOBAB, Piazza Armerina