DISCOVERED PREHISTORIC WINE SCIACCA AGRIGENTO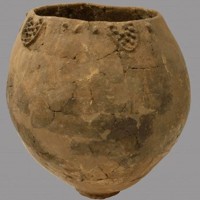 Found traces of wine of 6000 years ago in a cave on Mount San Calogero or mount Kronio in Agrigento's province, territory of Sciacca.

La discovery could rewrite the history and culture of ancient Sicily, which would become the first producer of wine. Until now it was thought that the wine came from the South of Anatolia and the Transcaucasus.

Our ancestors traded the precious drink considered magical and used probably for purifying rites because capable of altering the human mind, as put down Homer. The exchange took place with the ancient Greeks in the Peloponnese in exchange of metals of which Sicily was poor.
The caves were inhabited already in the age of copper, to bear witness to him over 40 large vases, jars and jugs with prehistoric wine.

On Mount San Calogero are:

the sanctuary of San Calogero (1530),
the Antiquarium, a spa and a series of karst caves, already known to our ancestors and used for therapeutic purposes for the sulphurous fumes, the most known of which is the so-called Stove San Calogero.

Already Diodorus Siculus tells a tale of Daedalus in Sicily of the caves of Hercules and the exceptional phenomenon vaporous.

DISCOVERED PREHISTORIC WINE SCIACCA AGRIGENTO
Notizie article by:
BED AND BREAKFAST BAOBAB, Piazza Armerina